Legends of the Lab
For International Pathology Day, we caught up with three legends of the lab to find out what pathology is all about.
Anastasia Raspopina, Pathology Assistant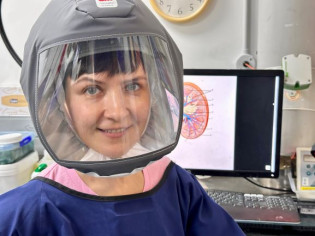 Anastasia has worked in pathology for 14 years, as a pathology assistant in Aotearoa and anatomic pathologist in Eastern Europe.
"In my role, I examine the specimens which are sent to us by the surgeries and look for pathological changes and signs of disease. I sample the right areas so the pathologist can come to the correct conclusion about the nature of the illness or pathological process. A simple example is determining if a sample is cancerous or benign.
"I find my job so interesting and I find others do too when they learn more about it. People are surprised to learn that I work with human tissue and internal organs. Some find it scary or disturbing, but I see it as part of an investigation. It's very satisfying to determine what is happening in a patient's body and find out what is causing their illness.
"I would love people to know more about anatomic pathology and the important role it plays in healthcare. Sometimes I feel people think samples are fed into a machine and a diagnosis appears. But it actually takes a lot of people and hard work to correctly diagnose a patient."
Saraya Hogan, Medical Laboratory Scientist, Molecular Virology

Saraya was inspired to start a career in pathology after spending time on the marae as a child and seeing how big the gap in health opportunities was. Saraya is now a Medical Laboratory Scientist in Molecular Virology.
"In short, my work involves the detection and identification of viruses in clinical samples. And, not just human samples, we often perform testing for some exotic animals as well.
"We also provide clearing testing so sick children can have their surgery and make sure medicines are working through monitoring and resistance testing. Every test we run helps and it's so satisfying knowing that my work makes a difference to patients and their whānau."
Dr Samarina Musaad, Chemical Pathologist

Samarina enjoys the investigative element of pathology, seeing pathology as the science of the cause and effect of disease.
"A Chemical pathologist is a doctor who investigates the chemistry of biological body fluids e.g. blood, urine, cerebrospinal fluid, and other normal and abnormal body fluids. By discovering how and where the body's chemistry changes diseases can be detected and monitored.
"I love finding answers to questions. I remember one case where a young woman's tests showed a high hormone level with no clinical explanation. We repeated the test but got the same result, so it needed further investigation.
"We sent the sample to other labs and ran some studies on the sample for substances that could interfere with testing and cause a false-high result. We discovered she had antibodies that interfered with our measurements. By detecting it early, she avoided further investigations, some of which could have been quite invasive.
"I've worked in pathology for 12 years since my speciality training. It's a fun job. It combines lab work and clinical interface and is a bridge between clinicians and the science of testing and investigations."
Last modified:
← Back to the news