A Prescription of Poems 
You can see some of Aotearoa's most prominent poets through Poetry in Place, an exhibition of 24 poems across Auckland City Hospital, Starship Hospital and Greenlane Clinical Centre.
Poetry in Place is an opportunity for patients, whānau and kaimahi to take a moment to pause and breathe. We hope readers will find inspiration and some form of healing through these poems.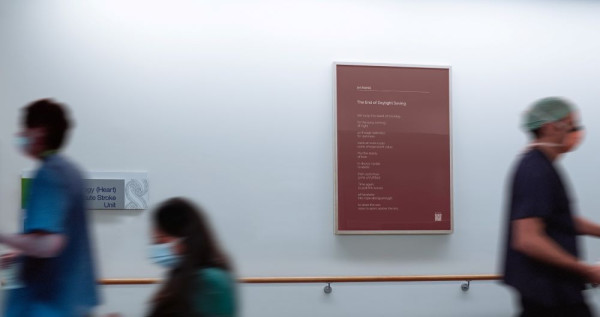 "These poems invite you to stop, think and reflect – have a quiet moment for oneself in a busy day," says Dr Margaret Wilsher, Chief Medical Officer. "We hope our patients and their whānau enjoy them as much as we do."
Our Ara Manawa team partnered with The University of Auckland to bring poetry to life in our hospitals. Ara Manawa is a team of creative problem solvers who develop solutions to challenges in Auckland City Hospital and the wider health sector.
Huge thanks to the Auckland Hospitals Research and Endowment Fund (AHREF) for their support.
The exhibition was timed to coincide with National Poetry Day on 27 August. Each poem has a QR code so you can learn more about the poems and poets who have gifted us their words. Or, if you're not in the hospital, you can read about the poems and poets() at Ara Manawa.
← Back to the news